Educator Resources

Virtual Naturalist School Programs
Virtual programs with our experienced naturalist staff are currently being offered to schools in lieu of in-person field trips. These programs can be provided online through your classroom's virtual platform or via Zoom session hosted by the park district. Our programs incorporate Ohio's Learning Standards in science for kindergarten through fifth grade and provide age-appropriate, engaging learning opportunities for your students. Programs are a half-hour in length, followed by a 5 to 10 minute Q & A time. Naturalists will use animal artifacts and/or live animals to reinforce educational points.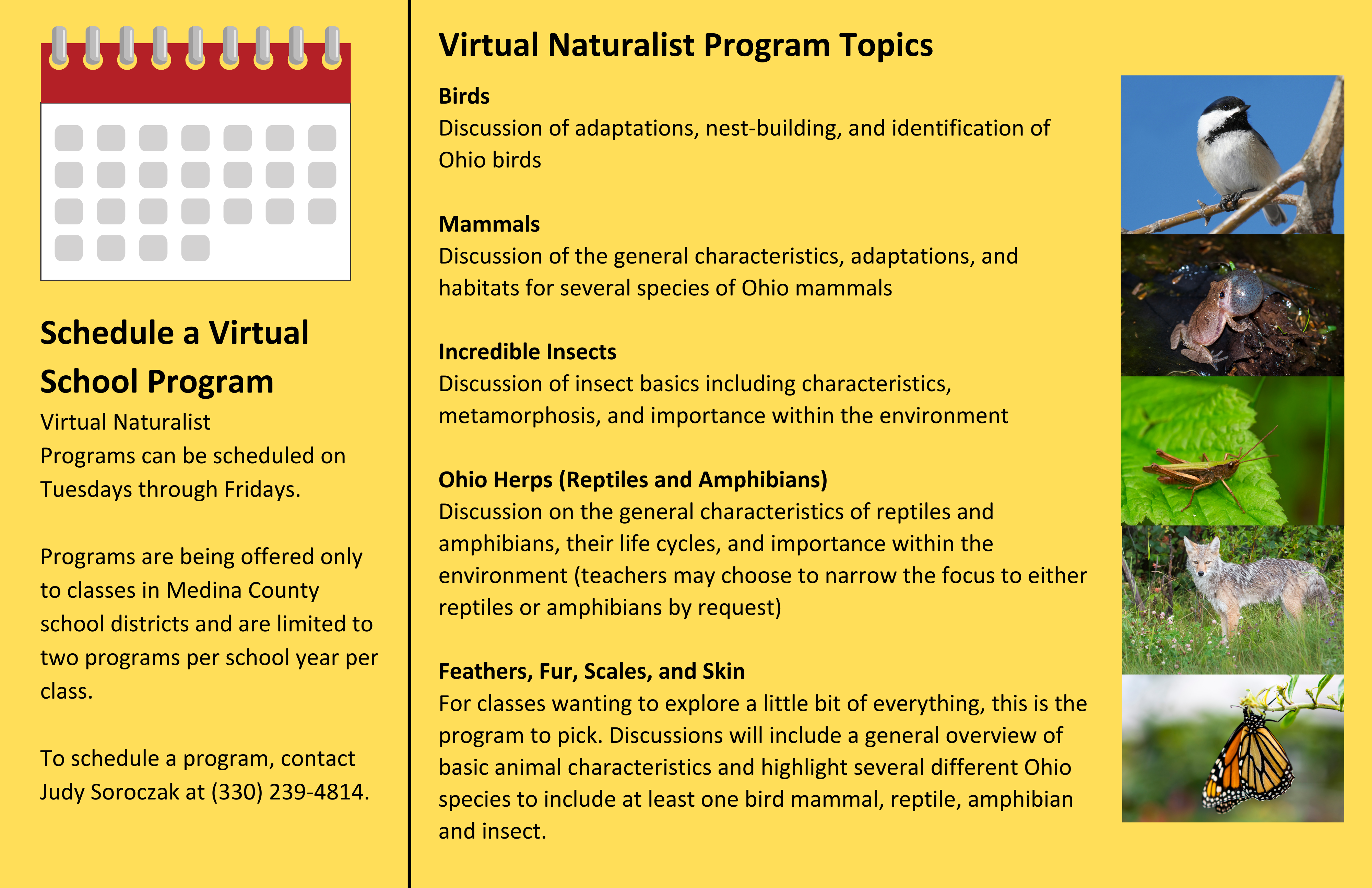 ---
These programs incorporate Ohio's Learning Standards in science for kindergarten through fifth grade. These programs include exploration of habitats, animal adaptations, ecosystem interactions, seasonal changes, scientific inquiry, life cycles, and food chains.
---
Downloadable Activity Sheets

back to top
Aquatic Ecosystems - Explore life in the aquatic ecosystems of Medina County
Earth's Foundations - Study the layers of earth that create our foundation and learn how rocks and soil are made.
Eco-Interactions - Investigate how animals interact with their environments, and use or change the world around them.
Focus on Food Chains - Discover how animals and plants depend on each other to survive.
Fossil Adaptations - Learn why all living things need food, water, shelter, and space.
Learning About Leaves - Investigate leaf shapes, why leaves change color, and leaf anatomy.
Life Cycles - Study the series of unique developmental life changes that living organisms experience during their lifetime.
Seasonal Discoveries - Explore how plants and animals change their behavior to better survive in each season.
What's Wild - Discover that in order for an animal to be truly wild, it has to be able to find all of these things by itself.
---
Medina County Park District's naturalists bring fun and education to your classroom through segments about the wild animals and plants of Medina County. Other shows will take you around the world, while we will connect you with the wonders in your own backyard.